Entertainment Center Dresser
Since moving into our new home here in the fabulous Kennett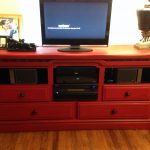 Square, Pennsylvania, there have been tons of projects Bryan and I have tackled.  One being our entertainment center.  The dresser, which dates back to the 1970s, was Bryan's older brother's when he was a kid.  It screamed, "I am old and outdated, help me."  Bryan wanted to get rid of this dresser and wanted to buy something new, GASP!  I had always had a vision for this piece in my head and I was not going to let anything happen to it.
Fast forward two years, so much has happen in our little cottage. We got married and adopted a new dog! But of course the most important thing that happened was we finally finished the entertainment center. (Of course I am kidding and I say with a chuckle)  Bryan and I tackled the entertainment center in one weekend and what a glorious weekend it was.  But I did not want to just paint it one solid color and call it a day. I wanted to make it interesting and useful.  After seeing tons of dresser redo and make- overs on Pinterest, I settled on making the entertainment center with shelves where the top use to be.
wanted to buy something new, GASP!
First, we started by deciding on which drawers to take out and what color to paint the entertainment center.  The drawer removal proved easy, but the paint color was a process.  I could not nail down what color to paint the entertainment center for almost two months.  I know, I know, this should be easy, but think about the agonizing hours I spent going back and forth with paint swatches.  After all, this is not a small piece of furniture in my family room, it is a large piece in the center of the room.  The color had to be spot on.  I also did not want to paint the entertainment center anything that would go out of style in a few years and then I would have to paint it again.
After we decided on the color we set to work!! I began with sanding what I thought was a hard wood top.  Much to my chagrin it was plywood and with my awesome sanding I exposed the plywood.  I had originally wanted to stain the top and paint the rest of the piece. But because I exposed the plywood I could no longer stain the top.  Punting time, what was I going to do?  The only thing to do was to paint the top.  I set to work with new game plan in place and painted the whole piece black.
Turning Drawers to Shelves
With the drawers removed we had to outfit the spaces with shelving.  Bryan installed 3/4″ birch plywood pieces into each opening.  There was already a lip available  to mount the shelves.  Bryan used the table saw cut a 1/2 kerf into the shelf pieces so that it would sit flush.  We nailed and glued them into place using regular wood glue and finishing nails.  We also put in side pieces in each slot to give it some support and keep the slots separate.  The side pieces do not go all the way to the top in order to facilitate some airflow to keep the electronics cool.  All in all the reconstruction took a small amount of effort and now we have a very functional media cabinet.
With the shelves finished and the boldness of the black as the base coat coming through magnificently, we need to add depth.  Then it was on to hand painting the red top coat.  I wanted to give a matte finish, almost a chalk paint look, but without the chalk paint price.
After all was said and done the piece looks amazing and is EXACTLY what I had imagined.
Products Used: