Behold the bar, cabinet!
It's the one place we can all have fun around and b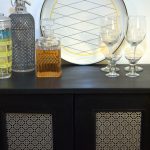 e with friends. That's exactly what I was thinking when we removed the old bachelor bar, which later down the road become the entertainment center. Everything in our little cottage comes full circle again and gets re-imagined somehow.
We wanted to replace the old bar cabinet with a more mature grown-up one.  So, we did what any cost conscience couple would do, we went to Craigslist.  Can I just say, I love Craigslist, but one can get overwhelmed!  So, we took our time trying to find the right vintage cabinet.
We contacted this eccentric man outside of Philly and proceeded to sift through is garage full of "stuff".  Bryan and I found what we were looking for in an old vintage record cabinet.  Now it is not a cabinet that held a record player, but rather it held the records.  It had great bones and I just had to have it in my house.  However, there were changes that had to made before I could call it my own.
I love Craigslist, but one can get overwhelmed!
With my new plans in hand we set to work.  I decided that I wanted to paint it black but do something special with the doors.  Bryan had bought a router for the china cabinet project, but never got a chance to use it.  This was the perfect project to use his new router.  I decided to rout out the cabinet doors and place radiator covers to give the new bar a chic and updated look. I replaced the pulls and I could not believe the transformation.
After everything was finished and I took a step back I realized something awful.  The bar cabinet was too small for all of our bar paraphernalia.  Oh well, I just brushed it off  and thought, "I can sell the bar."  And that is what we did and we one of our first sales on Etsy.
Products used: